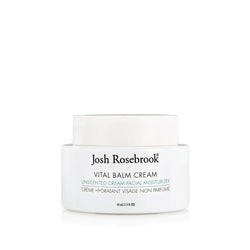 Josh Rosebrook VITAL BALM CREAM 45ml (Unscented)
Vital Balm Cream Unscented is a fragrance and essential oil-free formula and the ultimate multi-benefit moisturizer, combining the restorative benefits of a deeply nourishing balm with the quick absorption and finish of a silky, luxury cream.
This decadent balm cream has a whipped mousse-like texture that greets the skin with a vital reserve of potent phytonutrients and redness-fighting extracts to support a radiant, soft and healthy complexion. Soothing herbal actives, rejuvenating antioxidants, and hydro-boosting polysaccharides synergize to lock in maximum hydration and plump skin. 
Vital Balm Cream helps to fortify the skin barrier and restore thirsty skin, regardless of skin type or condition, working to nourish, protect and deeply moisturize skin. 
For all skin types and conditions, including dehydrated, sensitive and reactive.
Ingredients:
*Aloe Vera Leaf Juice, *Mango Seed Butter, *Avocado Oil, *Jojoba Seed Oil, *Shea Butter, *Senna Seed Extract, *Glycerin, *Gum Arabic, *Borage Seed Oil, *Evening Primrose Oil, *Honey, †Broccoli Seed Oil, *Sea Buckthorn Oil, *Vitamin E, *Ashwagandha Leaf Extract, *Turmeric Leaf Extract, *Rose Flower Extract, *Goji Berry Fruit Extract, *Calendula Extract, *Black Cohosh Root Extract, *Elderberry Extract, *Bladderwrack Extract, *Marshmallow Root Extract, *Ginger Extract, *Fenugreek Seed Extract, *Chickweed Extract, *Licorice Root Extract, *Raspberry Fruit Extract, *Dandelion Extract, *Sage Extract, *Eyebright Extract, *Milk Thistle Extract, *Rose Flower Powder, *St. John's Wort Extract, *Cat's Claw Extract, *Cinnamon Extract, *Lavender Extract, *Ginkgo Leaf Extract, *Rosemary Extract,§Xanthan Gum, Potassium Sorbate.
Our Indian Senna Seed/Cassia Angustifolia extract is made in-house along with all of our herbal extracts and infusions.
We offer FREE COURIERPOST DELIVERY on all orders $100 and over within New Zealand. For all other orders below this amount, there is a delivery fee of $5.00.
Please allow 2-3 working days for your order to arrive*
*If your items are out of stock or out of our shipping zones, we will contact you promptly with an expected date of shipping.
Should you have any special delivery instructions, please leave the details in the 'Delivery Instructions' field provided at the check out. 
Our packages are non-signature parcels unless requested. If you are not at home, the courier driver typically leaves the parcel at the door or close by. Alternatively, they will leave a card to call. If we are delivering to a business, please provide the business name in the delivery address.
Damaged or Missing parcels
If your products did not reach you in perfect condition, please notify us as soon as possible and we will endeavour to sort out the issue. Please do not return the damaged goods without notifying us first as we will need to make arrangements for the return from our end. Please keep any packaging and damaged items as is, as these are required for the claim process.
In the unlikely event that your parcel doesn't reach you within the expected delivery time-frame (2-3 working days) of our team having emailed you confirmation of dispatch, Please contact us.
For us to be able to assist you with regards to a missing parcel please contact us within 20 days of your parcel's dispatch.
For us to be able to assist you with regards to a damaged parcel please contact us within 7 days of your parcel's delivery date
 After these times we will unfortunately be unable to assist you.
Products may not be returned or exchanged if you change your mind so please choose carefully.
Damaged products on delivery may be returned in accordance with Urban Herbalist's damaged policy.
If you receive a faulty product, please contact us within 7 days and we will happily replace your item for you.