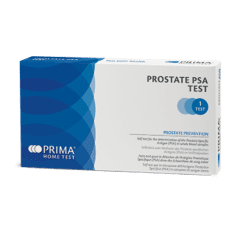 Prima
Prima Prostate PSA Test
What is the PRIMA Prostate-PSA Test for?
The PRIMA Prostate-PSA Test records the level of PSA (Prostate Specific Antigen) in blood to check for a possible change to normal PSA levels.
What is PSA?
The Prostate Specific Antigen (PSA) is a protein produced by the epithelial cells of the prostate gland and it is part of the male genital tract. Located inside the pelvic cavity, under the bladder, the prostate gland is a pyramidal-shape fibro-muscular structure, with a base at the top. Its function is to fluidify the ejaculation and therefore increase sperm mobility. PSA also plays an important role in dissolving cervical mucus, allowing sperm to enter the uterus. Small quantities of PSA are normally found in blood of men with a healthy prostate. Prostate diseases (such as prostatitis, benign prostatic hyperplasia, cancer) lead to an increase in the blood levels of PSA. PSA levels also naturally increase with age, after prostate surgery or specific diagnostic tests, for example; rectal examination, prostate biopsy, prostate ultrasound scan etc.
Who should use the Prostate-PSA Test?
åÊ
The Prostate-PSA TeståÊ(Prostate Specific Antigen)åÊis intended for men aged over 45, who don‰۪t have symptoms but wish to check their prostate; and also men with urinary tract symptoms like difficulty urinating, pain and increased frequency.
åÊ
How does the Prostate-PSA Test work?
The Prostate-PSA Test is an immunochromatographic assay that, thanks to specific antibodies, is able to detect the level of PSA in the blood above 4 ng/ml, with special monoclonal gold-conjugate antibodies embedded to the strip. Every thing you need to test is in the test kit pack including a pin-prick lancet to gain the drop of blood needed for the test. Results in just 5 minutes.
When should I use the Prostate-PSA Test?
The Test is useful to perform a periodic prostate health status check. It is especially for men from 45 years of age, or for men who have family history of prostatic disease. In the event of urinary tract symptoms, such as difficulty, pain and increased frequency of urination, the individual should always consult their Doctor. The PSA Test can give the relief of anxiety in the absence of symptoms. In the absence of symptoms with elevated PSA levels or in the presence of symptoms, this is a flag for the individual to seek further medical advice from their GP or Health Professional.
An early diagnosis is fundamental and could save lives
We offer FREE COURIERPOST DELIVERY on all orders $100 and over within New Zealand. For all other orders below this amount, there is a delivery fee of $5.00.
Please allow 2-3 working days for your order to arrive*
*If your items are out of stock or out of our shipping zones, we will contact you promptly with an expected date of shipping.
Should you have any special delivery instructions, please leave the details in the 'Delivery Instructions' field provided at the check out. 
Our packages are non-signature parcels unless requested. If you are not at home, the courier driver typically leaves the parcel at the door or close by. Alternatively, they will leave a card to call. If we are delivering to a business, please provide the business name in the delivery address.
Damaged or Missing parcels
If your products did not reach you in perfect condition, please notify us as soon as possible and we will endeavour to sort out the issue. Please do not return the damaged goods without notifying us first as we will need to make arrangements for the return from our end. Please keep any packaging and damaged items as is, as these are required for the claim process.
In the unlikely event that your parcel doesn't reach you within the expected delivery time-frame (2-3 working days) of our team having emailed you confirmation of dispatch, Please contact us.
For us to be able to assist you with regards to a missing parcel please contact us within 20 days of your parcel's dispatch.
For us to be able to assist you with regards to a damaged parcel please contact us within 7 days of your parcel's delivery date
 After these times we will unfortunately be unable to assist you.
Products may not be returned or exchanged if you change your mind so please choose carefully.
Damaged products on delivery may be returned in accordance with Urban Herbalist's damaged policy.
If you receive a faulty product, please contact us within 7 days and we will happily replace your item for you.