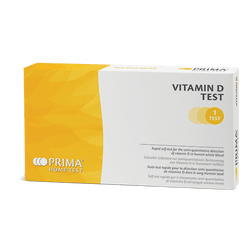 Prima
Prima Vitamin D Test
WHAT IS VITAMIN D TEST FOR?
Vitamin D Test is a rapid assay for the semi-quantitative detection of vitamin D in human blood. This is such a widespread condition today that it has been recognized as a global epidemic.
WHAT IS VITAMIN D?
Vitamin D belongs to a group of fat-soluble secosteroids responsible for increasing intestinal absorption of calcium, iron, magnesium, phosphate and zinc. The blood concentration of vitamin D (which includes D2 and D3) is considered the best indicator of vitamin D levels in the body. Vitamin D3 is naturally produced in human skin through exposure to ultraviolet rays, while vitamin D2 is derived mainly from food. Vitamin D is transported to the liver where it is metabolized into 25-hydroxy vitamin D.
Vitamin D deficiency is related to several serious diseases, such as: osteoporosis, multiple sclerosis, cardiovascular disorders, diabetes, complications during pregnancy, depression, heart attack, autoimmune disorders, flu, cancer, infectious diseases, Alzheimer's, obesity and osteomalacia. For this reason, tests to detect the concentration of vitamin D in the blood are now considered "medically necessary screening tests" not only for bone health, but for the entire physical well-being.
WHO DOES USE VITAMIN D TEST?
Vitamin D Test is particularly recommended for people commonly at risk of vitamin D deficiency, such as subjects with the following symptoms: frequent fatigue and tiredness, insufficient exposure to the sun, limited intake of this element through diet or who have problems in intestinal absorption.
HOW DOES THE VITAMIN D TEST WORK?
Vitamin D Test is an immunochromatographic device that, thanks to specific antibodies, is able to detect the levels of 25-hydroxyvitamin D in blood sample and highlight its concentration thanks to the intensity of the Test Line (T) obtained. This Test shows results of:
– deficit 0-10 ng/ml
– insufficient 10-30 ng/ml
– sufficient 30-100 ng/ml
– excess >100 ng/ml
WHEN SHOULD I DO THE VITAMIN D TEST?
It is useful to do the Vitamin D Test if you suffer from osteoporosis, other bone health problems or diseases that influence fat absorption (such as celiac), following particular conditions in which the absorption of Vitamin is compromised (as a gastric bypass operation) or in case of drugs that interfere with the action of the molecule (anticonvulsants and glucocorticoids).
It is also advisable to perform the Test if the calcium levels are low and/or if the patient has the typical symptoms of vitamin D deficiency, such as rickets (bone malformation in children), bone weakness or fragility and osteomalacia, repeated bone fractures in adults. Finally, the Test is also particularly suitable for people at high risk of deficiency (such as the elderly, hospitalized persons, those who leave little or nothing at home and/or expose themselves to the sun and obese people).
WHAT DOES IT CONTAIN?
instructions for use
2 sterile lancets for self-puncture and blood sampling
1 antiseptic cleaning gauze
1 dropper vial containing the diluent for the Test
1 transparent plastic bag containing the pipette for blood sampling
1 Vitamin D color card 1 sealed aluminum bag containing:
1 Test device
1 desiccant sachet
We offer FREE COURIERPOST DELIVERY on all orders $100 and over within New Zealand. For all other orders below this amount, there is a delivery fee of $5.00.
Please allow 2-3 working days for your order to arrive*
*If your items are out of stock or out of our shipping zones, we will contact you promptly with an expected date of shipping.
Should you have any special delivery instructions, please leave the details in the 'Delivery Instructions' field provided at the check out. 
Our packages are non-signature parcels unless requested. If you are not at home, the courier driver typically leaves the parcel at the door or close by. Alternatively, they will leave a card to call. If we are delivering to a business, please provide the business name in the delivery address.
Damaged or Missing parcels
If your products did not reach you in perfect condition, please notify us as soon as possible and we will endeavour to sort out the issue. Please do not return the damaged goods without notifying us first as we will need to make arrangements for the return from our end. Please keep any packaging and damaged items as is, as these are required for the claim process.
In the unlikely event that your parcel doesn't reach you within the expected delivery time-frame (2-3 working days) of our team having emailed you confirmation of dispatch, Please contact us.
For us to be able to assist you with regards to a missing parcel please contact us within 20 days of your parcel's dispatch.
For us to be able to assist you with regards to a damaged parcel please contact us within 7 days of your parcel's delivery date
 After these times we will unfortunately be unable to assist you.
Products may not be returned or exchanged if you change your mind so please choose carefully.
Damaged products on delivery may be returned in accordance with Urban Herbalist's damaged policy.
If you receive a faulty product, please contact us within 7 days and we will happily replace your item for you.