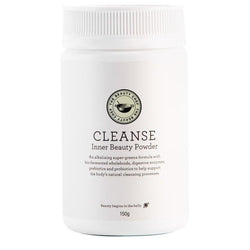 Urban Herbalist
The Beauty Chef CLEANSE Inner Beauty Powder 150g
Support the body's natural detoxification process and cultivate smooth, clear skin with The Beauty Chef's CLEANSE Inner Beauty Powder. This advanced super-greens formula contains 45 Certified Organic and bio-fermented fruits, vegetables, seeds, roots, algae, grasses, purifying herbs and digestive enzymes to help alkalise and detoxify your body from the inside out.
A delicious and easy way to enjoy a daily boost of cleansing and alkalising greens in a bio-available form, CLEANSE may also be used to help re-balance your body and gut microbiome during or after times of excess, or taken as part of The Beauty Chef's 14-day Intensive Cleanse Plan.
CLEANSE has been developed with The Beauty Chef's science-led Flora Culture fermentation process to increase the bio-availability of the formula and create a live, broad-spectrum probiotic for a beautiful belly and clear, radiant skin.
Rich in digestive enzymes, prebiotics and probiotics, CLEANSE is designed to support digestive balance and therefore improve detoxification.
BENEFITS
Aids detoxification - a bio-fermented blend of Certified Organic superfoods that delivers bio-available vitamins, minerals, essential fatty acids, antioxidants and phytonutrients to support your body's natural cleansing processes.

Antioxidant-rich - gives your body a powerful shot of free radical-fighting antioxidants to help you neutralise toxins and promote healthy, clear skin.

Supports gut health - our exclusive bio-fermentation process creates a natural, food-based, broad-spectrum probiotic to support digestive health, immune health and skin radiance. Studies show probiotics directly neutralise toxins.

Feeds your microbiome - rich in prebiotics and soluble fibre to feed the beneficial bacteria that reside in your gut and promote detoxification.

Eases digestion - rich in digestive enzymes to help you absorb more nutrients from the ingredients in the formula as well as the other foods you eat.

Alkalises the body - contains an alkalising blend of leafy greens, grasses and liver-cleansing herbs plus plenty of fibre to help your body eliminate toxins.

Certified Organic - CLEANSE is Certified Organic which means the ingredients are grown and the product is made without any synthetic chemical additives, herbicides or pesticides.
How to enjoy
CLEANSE is an ideal daily greens supplement to support your body's natural cleansing processes and promote clear, radiant skin. It can also be used intensively as part of The Beauty Chef's 14-day Cleanse program. You can pair the CLEANSE formula with any of our Inner Beauty Boosts to further enhance your inner beauty routine. For daily use, simply mix 7g with either filtered water, coconut water, or blend it into your favourite smoothie.
Key Ingredients:
Flora Culture - 12 strains of bacteria including lactobacillus, bifidum and beneficial yeasts introduced to the formula as part of our unique lacto-fermentation process. This process ferments ingredients over a 6-8 week period, making ingredients more bio-available and creating a broad-spectrum probiotic.

Probiotics - each serve of CLEANSE contains a minimum of one billion probiotics to support digestive health.

Lactobacillus metabolites - produced by our exclusive Flora Culture lacto-fermentation process, research shows that these compounds may have immune-boosting benefits.

Digestive enzyme super blend - amylase, protease, lipase, lactase and cellulose to aid digestion and nutrient assimilation, help balance your gut and support your body's natural detoxification processes.

Prebiotics - rich in soluble fibre from bio-fermented legumes and seeds as well as inulin from Jerusalem artichoke, to feed the beneficial bacteria in your gut.

Traditional liver-supporting herbs and foods - including bio-fermented St Mary's thistle, beetroot, dandelion, nettle, burdock root, fennel, broccoli sprouts, kale, collard greens and rosemary.

Bio-fermented alkalising greens - leafy greens, barley grass, wheat grass, spirulina and chlorella to help reduce acidity of the body's tissues.

Ingredients List:
Organic Fermented Nutrient Blend with Flora Culture (mung beans*, chick peas*, millet*, spirulina powder*, red lentils*, adzuki beans*, barley grass powder*, wheat grass powder*, quinoa*, chlorella powder*, honey*, molasses*, broccoli sprouted powder, chia seed powder, lemon powder, St Mary's thistle*, dandelion root*, burdock*, turmeric, ginger root powder*, cinnamon powder*), sprouted pea fibre*, Jerusalem artichoke root extract powder*, spinach leaf powder*, nettle leaf powder*, alfalfa grass*, collard greens leaf powder*, kale leaf powder*, beetroot powder*, apple powder*, Digestive Enzyme Blend (amylase, protease, lipase, lactase and cellulase), natural apple flavour, broccoli sprout powder*, stevia leaf extract powder*.

*Certified Organic ingredients.

The Beauty Chef's CLEANSE Inner Beauty Powder is organic, gluten free, vegan and contains no artificial flavours, preservatives, colours, additives, nuts, lactose, dairy or sugar. The Beauty Chef products are not tested on animals and proudly Australian made.

The Beauty Chef's products are not tested on animals.
We offer FREE COURIERPOST DELIVERY on all orders $100 and over within New Zealand. For all other orders below this amount, there is a delivery fee of $5.00.
Please allow 2-3 working days for your order to arrive*
*If your items are out of stock or out of our shipping zones, we will contact you promptly with an expected date of shipping.
Should you have any special delivery instructions, please leave the details in the 'Delivery Instructions' field provided at the check out. 
Our packages are non-signature parcels unless requested. If you are not at home, the courier driver typically leaves the parcel at the door or close by. Alternatively, they will leave a card to call. If we are delivering to a business, please provide the business name in the delivery address.
Damaged or Missing parcels
If your products did not reach you in perfect condition, please notify us as soon as possible and we will endeavour to sort out the issue. Please do not return the damaged goods without notifying us first as we will need to make arrangements for the return from our end. Please keep any packaging and damaged items as is, as these are required for the claim process.
In the unlikely event that your parcel doesn't reach you within the expected delivery time-frame (2-3 working days) of our team having emailed you confirmation of dispatch, Please contact us.
For us to be able to assist you with regards to a missing parcel please contact us within 20 days of your parcel's dispatch.
For us to be able to assist you with regards to a damaged parcel please contact us within 7 days of your parcel's delivery date
 After these times we will unfortunately be unable to assist you.
Products may not be returned or exchanged if you change your mind so please choose carefully.
Damaged products on delivery may be returned in accordance with Urban Herbalist's damaged policy.
If you receive a faulty product, please contact us within 7 days and we will happily replace your item for you.