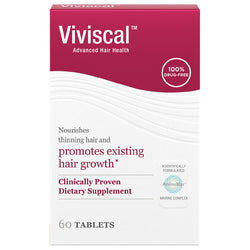 Urban Herbalist
Viviscal Maximum Strength Hair Growth Program 60 Tablets
Viviscal Maximum Strength Hair Growth Program 60 Tablets
Viviscal is the number one selling hair growth supplement in the US.*
Viviscal supplements are scientifically formulated to nourish the hair, support healthy hair growth and combat hair loss in women with thinning hair. In a recent survey prepared for Viviscal, more than one in five Australian women experience hair loss such as thinning.**
Viviscal supplements are fortified with the key nutrients Biotin and Zinc which help maintain normal healthy hair growth from within and the proprietary marine protein complex AminoMar C䋢.
Only Viviscal supplements contain AminoMar C‰ã¢.åÊViviscal supplements also contain Vitamin C, Niacin, Iron, and Millet Seed.
As described in the Healthy Hair Growth Cycle hair can be in a different growth stage of the cycle. Over time, the length of the Anagen stage decreases, therefore the hair may become weaker and thinner after each cycle. This is why it's important to ensure your diet is rich in specific nutrients throughout your life.
* US IRI Data
** Viviscal Pure Profile Survey, June 2013.
Viviscal offers scientifically formulated products that promote healthy hair growth from the inside (Viviscal Maximum Strength dietary supplements) plus gorgeous hair on the outside (Viviscal Densifying Elixir, Densifying Shampoo and Densifying Conditioner).
Recommended daily intake: Take 2 tablets daily for a minimum of 3-6 months (1 in the morning and 1 in the evening taken with water after food). Thereafter, to maintain healthy hair growth take 1-2 tablets daily as required.
Ingredients:åÊShark Cartilage (From AminoMar C‰ã¢) 375mg,åÊAcerola Fruit Powder 8.8mg,åÊHorsetail Extract 248mg,åÊMillet Extract 143mg, Vitamin C 57mg,åÊZinc 11mg,åÊBiotin 120mcg,åÊVitamin B3 12mg and Iron 10.5mg.
Allergy advice:åÊContains fish and shellfish, not recommended for those allergic to fish, shellfish or seafood.
Warning:åÊDietary supplements should not replace a balanced diet. Children, pregnant or breastfeeding women and those who have recently had a heart attack, surgery or major accident should not consume this product without medical advice. If symptoms persist consult your healthcare practitioner. Use only as directed.
We offer FREE COURIERPOST DELIVERY on all orders $100 and over within New Zealand. For all other orders below this amount, there is a delivery fee of $5.00.
Please allow 2-3 working days for your order to arrive*
*If your items are out of stock or out of our shipping zones, we will contact you promptly with an expected date of shipping.
Should you have any special delivery instructions, please leave the details in the 'Delivery Instructions' field provided at the check out. 
Our packages are non-signature parcels unless requested. If you are not at home, the courier driver typically leaves the parcel at the door or close by. Alternatively, they will leave a card to call. If we are delivering to a business, please provide the business name in the delivery address.
Damaged or Missing parcels
If your products did not reach you in perfect condition, please notify us as soon as possible and we will endeavour to sort out the issue. Please do not return the damaged goods without notifying us first as we will need to make arrangements for the return from our end. Please keep any packaging and damaged items as is, as these are required for the claim process.
In the unlikely event that your parcel doesn't reach you within the expected delivery time-frame (2-3 working days) of our team having emailed you confirmation of dispatch, Please contact us.
For us to be able to assist you with regards to a missing parcel please contact us within 20 days of your parcel's dispatch.
For us to be able to assist you with regards to a damaged parcel please contact us within 7 days of your parcel's delivery date
 After these times we will unfortunately be unable to assist you.
Products may not be returned or exchanged if you change your mind so please choose carefully.
Damaged products on delivery may be returned in accordance with Urban Herbalist's damaged policy.
If you receive a faulty product, please contact us within 7 days and we will happily replace your item for you.