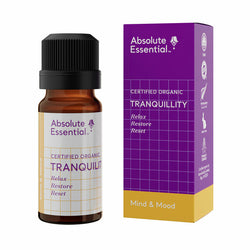 Integria
Absolute Essential Tranquility (Organic) 10ml
Let the noise and stress of the day drift away with a warm, gentle aroma designed to promote inner peace and relaxation. Made with a unique synergy of therapeutic ingredients, this blend has specific relaxant, calming and cleansing properties to help soothe world-weary senses and encourage restorative process. Suitable for diffusion, pulse points, baths and dilute for massage.
Key Components
Sandalwood Australian (wild)åÊSantalum spicatum
Strengthening, it helps you make peace with the world.
Chamomile Roman (organic)åÊAnthemis nobilis
A strong sedative, relaxing, gentle & kind.
Lavender Sweet (organic)åÊLavandula angustifoliaåÊmaillette
Washes away emotional conflict & calming nervous tension.
Orange Sweet (organic)åÊCitrus aurantium
A cheerful scent to restore a positive outlook.
We offer FREE COURIERPOST DELIVERY on all orders $100 and over within New Zealand. For all other orders below this amount, there is a delivery fee of $5.00.
Please allow 2-3 working days for your order to arrive*
*If your items are out of stock or out of our shipping zones, we will contact you promptly with an expected date of shipping.
Should you have any special delivery instructions, please leave the details in the 'Delivery Instructions' field provided at the check out. 
Our packages are non-signature parcels unless requested. If you are not at home, the courier driver typically leaves the parcel at the door or close by. Alternatively, they will leave a card to call. If we are delivering to a business, please provide the business name in the delivery address.
Damaged or Missing parcels
If your products did not reach you in perfect condition, please notify us as soon as possible and we will endeavour to sort out the issue. Please do not return the damaged goods without notifying us first as we will need to make arrangements for the return from our end. Please keep any packaging and damaged items as is, as these are required for the claim process.
In the unlikely event that your parcel doesn't reach you within the expected delivery time-frame (2-3 working days) of our team having emailed you confirmation of dispatch, Please contact us.
For us to be able to assist you with regards to a missing parcel please contact us within 20 days of your parcel's dispatch.
For us to be able to assist you with regards to a damaged parcel please contact us within 7 days of your parcel's delivery date
 After these times we will unfortunately be unable to assist you.
Products may not be returned or exchanged if you change your mind so please choose carefully.
Damaged products on delivery may be returned in accordance with Urban Herbalist's damaged policy.
If you receive a faulty product, please contact us within 7 days and we will happily replace your item for you.