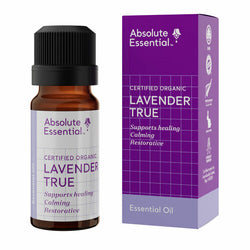 Integria
Absolute Essential Lavender (Organic)
Lavender is an exceptional natural healer and makes a wonderful first aid all-rounder. It is great for skin care, repair and wounds, and deeply calming - good for restful sleep, and against emotional conflict and nervous tension. Lavender is gentle enough to be applied directly to the skin, (for healing or to pulse points as a rescue response). Its gentle action makes it ideal for children and the elderly. Blends well with: most essential oils, very easy to blend.
Uses
Skin Healing
To assist the skin's natural healing and regeneration processes, especially when blistered or scalded, apply 2-5 drops directly to area. Lavender True is very calming and may help to ease painful nerve activity. Begin immediately and repeat hourly.
Sleep & Calm
Luxuriate in a calm, balanced atmosphere that promotes relaxation, and helps to counter restlessness and sleeplessness. Add 10 drops to your bath or diffuser. Repeat as required. Use half dose for children.
Shock
When experiencing shock or injury, bring the bottle of Lavender True to the nose and inhale deeply or add a few drops to pulse points. This will promote calm and balance and supports the body's natural healing and restorative processes.
Bruising
To aid healing when skin is bruised, apply 1-2 drops directly to the area, prior to discolouration if possible. Repeat for several days. This oil can also be blended 50/50 with Geranium as a first aid preparation for all knocks and bruises.
Safety: Lavender is one of the safest essential oils if used as directed. It can be applied directly to the skin. If ingested, drink milk and seek advice from a health professional. Avoid eyes, flush with water. Keep out of reach of children.Please note: Therapeutic plant oils are used to support natural body process for optimum health and wellbeing. The information here is NOT meant as recommendation for cure of any medical condition or disease.
We offer FREE COURIERPOST DELIVERY on all orders $100 and over within New Zealand. For all other orders below this amount, there is a delivery fee of $5.00.
Please allow 2-3 working days for your order to arrive*
*If your items are out of stock or out of our shipping zones, we will contact you promptly with an expected date of shipping.
Should you have any special delivery instructions, please leave the details in the 'Delivery Instructions' field provided at the check out. 
Our packages are non-signature parcels unless requested. If you are not at home, the courier driver typically leaves the parcel at the door or close by. Alternatively, they will leave a card to call. If we are delivering to a business, please provide the business name in the delivery address.
Damaged or Missing parcels
If your products did not reach you in perfect condition, please notify us as soon as possible and we will endeavour to sort out the issue. Please do not return the damaged goods without notifying us first as we will need to make arrangements for the return from our end. Please keep any packaging and damaged items as is, as these are required for the claim process.
In the unlikely event that your parcel doesn't reach you within the expected delivery time-frame (2-3 working days) of our team having emailed you confirmation of dispatch, Please contact us.
For us to be able to assist you with regards to a missing parcel please contact us within 20 days of your parcel's dispatch.
For us to be able to assist you with regards to a damaged parcel please contact us within 7 days of your parcel's delivery date
 After these times we will unfortunately be unable to assist you.
Products may not be returned or exchanged if you change your mind so please choose carefully.
Damaged products on delivery may be returned in accordance with Urban Herbalist's damaged policy.
If you receive a faulty product, please contact us within 7 days and we will happily replace your item for you.