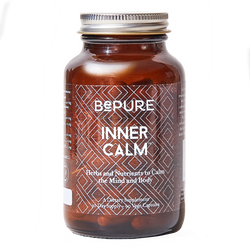 Nutrisearch
Bepure Inner Calm 90
BePure InnerCalm contains calming herbs and nutrients designed to minimise the effects of stress and overwhelm on the mind and body. With powerful herbs that support reducing feelings of feeling overwhelmed and stress, combined with nutrients that support the production of our calming neurotransmitter GABA. InnerCalm is here to help ease feelings of worry and overwhelm, long term. Here to soothe the mind and body, InnerCalm provides support for your daily unwind.
Each serving (3 capsules) contains:
Passion flower extract (4:1) 400mg (Standardised for 3.5% flavone content)
Kavalactones (from Kava kava root [
piper methysticum
] extract (400mg) 120mg
Vitamin C  (as Ascorbic acid) 125mg
Vitamin B6 (as P5P) 5mg
Elemental magnesium (from magnesium glycinate) 100mg
Elemental zinc (from zinc picolinate) 15mg
Also contains:
Hypromellose (capsule), Microcrystalline cellulose.
Directions
Adults (ages 18+):
3 capsules daily for stress and nervous system support. To be taken at night for sleep support or as needed during the day in times of stress and overwhelm.
Precautions
Not suitable during pregnancy or breastfeeding.
Avoid if you are taking barbiturates, benzodiazepines or other CNS depressants. If on medication, we recommend checking contraindications with your health professional.
Inner calm should be taken away from medication and alcohol.
Not designed for regular, long term use.
Always read the label and take as directed. Vitamins are supplementary to a balanced diet.
We offer FREE COURIERPOST DELIVERY on all orders $100 and over within New Zealand. For all other orders below this amount, there is a delivery fee of $5.00.
Please allow 2-3 working days for your order to arrive*
*If your items are out of stock or out of our shipping zones, we will contact you promptly with an expected date of shipping.
Should you have any special delivery instructions, please leave the details in the 'Delivery Instructions' field provided at the check out. 
Our packages are non-signature parcels unless requested. If you are not at home, the courier driver typically leaves the parcel at the door or close by. Alternatively, they will leave a card to call. If we are delivering to a business, please provide the business name in the delivery address.
Damaged or Missing parcels
If your products did not reach you in perfect condition, please notify us as soon as possible and we will endeavour to sort out the issue. Please do not return the damaged goods without notifying us first as we will need to make arrangements for the return from our end. Please keep any packaging and damaged items as is, as these are required for the claim process.
In the unlikely event that your parcel doesn't reach you within the expected delivery time-frame (2-3 working days) of our team having emailed you confirmation of dispatch, Please contact us.
For us to be able to assist you with regards to a missing parcel please contact us within 20 days of your parcel's dispatch.
For us to be able to assist you with regards to a damaged parcel please contact us within 7 days of your parcel's delivery date
 After these times we will unfortunately be unable to assist you.
Products may not be returned or exchanged if you change your mind so please choose carefully.
Damaged products on delivery may be returned in accordance with Urban Herbalist's damaged policy.
If you receive a faulty product, please contact us within 7 days and we will happily replace your item for you.