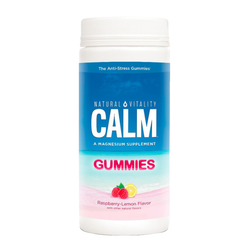 Naturalmeds
Natural Vitality Calm Gummies
Product overview
Natural Vitality CALM Gummies are delicious, fruit-flavored chews with the essential nutrients needed for stress support, better sleep and more relaxed muscles. Perfect for the whole family, each delicious raspberry lemon flavored gummy packs 83 mg of magnesium citrate so everyone – from kids to adults – can support the release of tension from the body and calm the mind to find a relaxing sense of calm, anytime, anywhere.
Why Magnesium?
Magnesium is an essential mineral and is needed for more than 300 biochemical reactions in the body, however, the majority of us are not getting adequate amounts.
This could be due to a number of factors including: the amount of magnesium required by the body is greater than the intake, fruits and vegetables may have lost mineral content over time due to soil depletion, or the magnesium supplement currently being taken is poorly absorbed by the body.
Magnesium helps maintain normal muscle and nerve function, keeps heart rhythm steady, supports a healthy immune system and, in conjunction with calcium, keeps bones strong. Magnesium also supports healthy blood sugar levels and normal blood pressure. Cellular magnesium deficiency can express itself as fatigue and low energy; inability to sleep; muscle tension, nervousness; sluggish bowels and heart irregularities. It can also exacerbate an already existing disease state or increase the risk of complications in many health conditions.
We offer FREE COURIERPOST DELIVERY on all orders $100 and over within New Zealand. For all other orders below this amount, there is a delivery fee of $5.00.
Please allow 2-3 working days for your order to arrive*
*If your items are out of stock or out of our shipping zones, we will contact you promptly with an expected date of shipping.
Should you have any special delivery instructions, please leave the details in the 'Delivery Instructions' field provided at the check out. 
Our packages are non-signature parcels unless requested. If you are not at home, the courier driver typically leaves the parcel at the door or close by. Alternatively, they will leave a card to call. If we are delivering to a business, please provide the business name in the delivery address.
Damaged or Missing parcels
If your products did not reach you in perfect condition, please notify us as soon as possible and we will endeavour to sort out the issue. Please do not return the damaged goods without notifying us first as we will need to make arrangements for the return from our end. Please keep any packaging and damaged items as is, as these are required for the claim process.
In the unlikely event that your parcel doesn't reach you within the expected delivery time-frame (2-3 working days) of our team having emailed you confirmation of dispatch, Please contact us.
For us to be able to assist you with regards to a missing parcel please contact us within 20 days of your parcel's dispatch.
For us to be able to assist you with regards to a damaged parcel please contact us within 7 days of your parcel's delivery date
 After these times we will unfortunately be unable to assist you.
Products may not be returned or exchanged if you change your mind so please choose carefully.
Damaged products on delivery may be returned in accordance with Urban Herbalist's damaged policy.
If you receive a faulty product, please contact us within 7 days and we will happily replace your item for you.