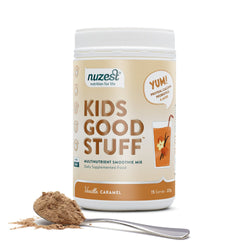 Pacific Health
Nuzest Kids Good Stuff - Vanilla Caramel 225g
Nuzest Kids Good Stuff is a nutritious blend of fruits, vegetables, greens and berries. Create a delicious smoothie for your kids to enjoy packed with vitamins, minerals, protein, probiotics and much more. Kids Good Stuff is the perfect way to make sure your kids are getting all the nutrients that they need for healthy growth and development.
Key Features and Ingredients:
Quick, easy, all-in-one solution
A fuss free way to help fill the gap in your childs diet
Supports growth, development and vitality
Easy to digest and absorb
How to use:
Kids Good Stuff is beståÊused once a day as a nutrient boost. Have it in the morning with breakfast or alternatively as an after school treat with their snack. Simply shake or blend one serve (two scoops) in water or with your child‰۪s favourite milk and enjoy.
Ingredients:
Growth & Development
Pea Protein Isolate 6400 mg
Sunflower Lecithin 250 mg
Greens Fruits & Veg

Cacao 3750 mg
Red Marine Algae (Calcium) 425 mg
Apple Powder 200 mg
Blackcurrant extract* 200 mg
Grapeseed extract* 200 mg
Organic Spirulina 200 mg
Beetroot 150 mg
Carrot Root 150 mg
Organic Barley Leaf 150 mg
Organic Wheatgrass 150 mg
Acerola Fruit extract* 125 mg
Bilberry extract* 100 mg
Broccoli Sprout 100 mg
Camu Camu extract* 100 mg
Papaya Juice 100 mg
Spinach 100 mg
Pineapple Juice extract* 75 mg
Kelp (whole plant) extract* 35 mg
Goji (Wolfberry) extract* 20 mg
Vitamins & Minerals
Potassium Phosphate 668 mg
L-5MTHF (Folate) 200 mcg
Ascorbic Acid (Vit C) 200 mg
Chromium Picolinate 165 mcg
Magnesium Glycinate 154 mg
Magnesium Citrate 100 mg
Menaquinone-7 (Vit K2) 70 mcg
Mixed Tocopherols 63 mg
Zinc Gluconate 46 mg
Biotin (Vit B7) 40 mcg
Inositol Hexanicotinate (Vit B3) 11 mg
Methylcobalamin (Vit B12) 10 mcg
d-alpha tocopherol (Vit E) 6.2 mg
Orthosilicic Acid (Silica) 6.0 mg
Calcium D-Pantothenate (Vit B5) 5.5 mg
L-Selenomethionine 5.0 mg
Manganese Gluconate 4.2 mg
Lichen Vit D3 (400IU) 4.0 mg
Pyridoxine HCl (Vit B6) 3.6 mg
Riboflavin (Vit B2) 3.0 mg
Retinyl Palmitate (Vit A) 2.7 mg
Thiamin (Vit B1) 2.2 mg
Copper Gluconate 1.5 mg
Mixed Carotenoids 1.3 mg
Immune Support

Bioflavanoids 150 mg
Citric Acid 150 mg
Cacao Polyphenol Extract 30 mg
R,S -Alpha Lipoic Acid 30 mg
Beta Glucans 11 mg
Pre & Probiotics

B. bifidum 1.0B CFU
L. acidophilus 1.0B CFU
Apple Pectin (Prebiotic) 200 mg
Digestive Support

Psyllium Husk (Fibre) 100 mg
Ginger 50 mg
Bromelain (Enzymes) 30 mg
Dandelion*
We offer FREE COURIERPOST DELIVERY on all orders $100 and over within New Zealand. For all other orders below this amount, there is a delivery fee of $5.00.
Please allow 2-3 working days for your order to arrive*
*If your items are out of stock or out of our shipping zones, we will contact you promptly with an expected date of shipping.
Should you have any special delivery instructions, please leave the details in the 'Delivery Instructions' field provided at the check out. 
Our packages are non-signature parcels unless requested. If you are not at home, the courier driver typically leaves the parcel at the door or close by. Alternatively, they will leave a card to call. If we are delivering to a business, please provide the business name in the delivery address.
Damaged or Missing parcels
If your products did not reach you in perfect condition, please notify us as soon as possible and we will endeavour to sort out the issue. Please do not return the damaged goods without notifying us first as we will need to make arrangements for the return from our end. Please keep any packaging and damaged items as is, as these are required for the claim process.
In the unlikely event that your parcel doesn't reach you within the expected delivery time-frame (2-3 working days) of our team having emailed you confirmation of dispatch, Please contact us.
For us to be able to assist you with regards to a missing parcel please contact us within 20 days of your parcel's dispatch.
For us to be able to assist you with regards to a damaged parcel please contact us within 7 days of your parcel's delivery date
 After these times we will unfortunately be unable to assist you.
Products may not be returned or exchanged if you change your mind so please choose carefully.
Damaged products on delivery may be returned in accordance with Urban Herbalist's damaged policy.
If you receive a faulty product, please contact us within 7 days and we will happily replace your item for you.