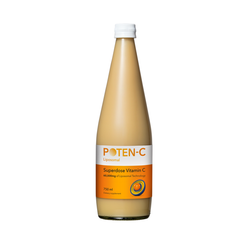 Pacific Health
POTEN-C LIPOSOMAL VITAMIN C 750mL
Brand description
POTEN-C is a team of New Zealanders who are passionate about providing quality liposomal supplements with a focus on clean, simple ingredients and sustainability.
Our goal is to make the health benefits of Liposomal technology available to all. We utilise independent lab testing to verify our proprietary product for Vitamin-C concentration, liposomal formulation and shelf life.
The product is manufactured in New Zealand from high quality imported and local ingredients.
Product description
POTEN-C Liposomal Vitamin-C is New Zealand's premium liposomal, independently lab tested for Vitamin-C concentration, liposomes and shelf life.
Our three simple ingredient formulation is free from alcohol, preservatives, sweeteners and soy and comes conveniently packaged in a recyclable glass bottle.
Our active ingredient (Vitamin C) is encapsulated in a liposome, a protective phospholipid bilayer that replicates our body's cellular membranes. This superior technology aids delivery, maximises absorption and extends active time in the body.
Vitamin C is an essential nutrient that humans cannot produce and therefore we must obtain it through our diet or supplements.
Vitamin C is a powerful antioxidant that provides support for
Healthy immunity
Collagen formation
Normal stress response
Protein and fat metabolism
Energy levels
Wound healing
Iron absorption
Proudly developed locally with passion and care
Product highlights
Developed in New Zealand
Free from alcohol, preservatives, sweeteners, and soy
Recyclable glass bottle
Supports a healthy Immune response
Building block of collagen
Supports energy levels, metabolism of protein and fat
Supports normal stress response
Ingredients
Serving size: 25mL
750ml bottle: servings per bottle: 30
Quantity per serving 
Vitamin C (as Ascorbic Acid) 2000mg
Sunflower lecithin (non-GMO) 800mg
Only other ingredient: Ultra distilled water.
Directions
Store upright in a cool dark place and refrigerate once opened.
Adults: Take 25ml as a daily maintenance dose.
Children: Take 5ml.
Best taken 10 minutes before food. This dosage can be increased when necessary, under the guidance of a healthcare practitioner.
Precautions
If you are pregnant or lactating, have iron overload or a predisposition to kidney stones please consult your healthcare practitioner before use.
Always read the label. Use as directed. Vitamins and minerals are supplementary to and not a replacement for a balanced diet. If symptoms persist, see your healthcare professional.
We offer FREE COURIERPOST DELIVERY on all orders $100 and over within New Zealand. For all other orders below this amount, there is a delivery fee of $5.00.
Please allow 2-3 working days for your order to arrive*
*If your items are out of stock or out of our shipping zones, we will contact you promptly with an expected date of shipping.
Should you have any special delivery instructions, please leave the details in the 'Delivery Instructions' field provided at the check out. 
Our packages are non-signature parcels unless requested. If you are not at home, the courier driver typically leaves the parcel at the door or close by. Alternatively, they will leave a card to call. If we are delivering to a business, please provide the business name in the delivery address.
Damaged or Missing parcels
If your products did not reach you in perfect condition, please notify us as soon as possible and we will endeavour to sort out the issue. Please do not return the damaged goods without notifying us first as we will need to make arrangements for the return from our end. Please keep any packaging and damaged items as is, as these are required for the claim process.
In the unlikely event that your parcel doesn't reach you within the expected delivery time-frame (2-3 working days) of our team having emailed you confirmation of dispatch, Please contact us.
For us to be able to assist you with regards to a missing parcel please contact us within 20 days of your parcel's dispatch.
For us to be able to assist you with regards to a damaged parcel please contact us within 7 days of your parcel's delivery date
 After these times we will unfortunately be unable to assist you.
Products may not be returned or exchanged if you change your mind so please choose carefully.
Damaged products on delivery may be returned in accordance with Urban Herbalist's damaged policy.
If you receive a faulty product, please contact us within 7 days and we will happily replace your item for you.