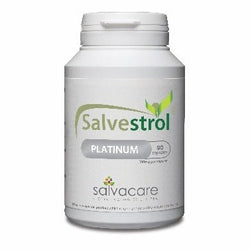 Nutrisearch
Salvestrol Platinum 90 Capsules
Salvestrol Platinum 90 Capsules
Salvestrols are phytonutrients essential for wellbeing that cannot be made in the body and must therefore be supplied through our diet. They have been identified in many fruits, vegetables and herbs.

They are converted inside diseased cells by a specific enzyme (CYP1B1) into compounds that can destroy the diseased cell. Because the enzyme is not present in healthy cells the Salvestrols exert no ill effects on them.

Salvestrol Platinum contains salvestrols that are extracted from organically grown fruit - as modern farming methods using fungicides and pesticides destroy the naturally occurring salvestrols in the fruit.
Plant derived compounds with a pharmacological rather than a chemical definition

Supports elimination of aberrant cells
Key Points

Inadequate levels are associated with unregulated over proliferation of abnormal cells

Utilized as part of the bodys natural cell cycle regulation process

Effect is not through a cytotoxic response

Selectivity; no effect on normal cells 49

No interactions; can be used alongside conventional treatments
Interactions/Contraindications
There are no known contraindications or interactions with chemotherapy, immunotherapy or radiotherapy treatments. Salvestrol Platinum 2000 does not produce an antioxidant effect.
Background information
Identified as a result of multiple university projects over a 20 year period; the initial discovery was of the enzyme protein CYP1B1 being highly overexpressed in tumour cells. Since 1997 there have been over 30 peer-reviewed published studies of over 3,300 samples in total, including 2,500 aberrant growths of many types along with what were considered to be normal cells.

Further research was undertaken through the Cancer Drug Discovery Group Project at De Montfort University with the aim to develop synthetic compounds to target the CYP1B1 enzyme, however with very limited success.
Subsequent investigation into plant sources lead to the discovery of natural plant derived compounds, Salvestrols and their affinity with the enzyme. Research includes human case studies and immunohistochemical studies of live cell lines from human biopsy tissue samples.

Ingredients

Citrus reticulata extract, Vitis vinifera extract extract, Cucurbita maxima 450mg. Excipients: rice flour, hypromellose capsule shell
We offer FREE COURIERPOST DELIVERY on all orders $100 and over within New Zealand. For all other orders below this amount, there is a delivery fee of $5.00.
Please allow 2-3 working days for your order to arrive*
*If your items are out of stock or out of our shipping zones, we will contact you promptly with an expected date of shipping.
Should you have any special delivery instructions, please leave the details in the 'Delivery Instructions' field provided at the check out. 
Our packages are non-signature parcels unless requested. If you are not at home, the courier driver typically leaves the parcel at the door or close by. Alternatively, they will leave a card to call. If we are delivering to a business, please provide the business name in the delivery address.
Damaged or Missing parcels
If your products did not reach you in perfect condition, please notify us as soon as possible and we will endeavour to sort out the issue. Please do not return the damaged goods without notifying us first as we will need to make arrangements for the return from our end. Please keep any packaging and damaged items as is, as these are required for the claim process.
In the unlikely event that your parcel doesn't reach you within the expected delivery time-frame (2-3 working days) of our team having emailed you confirmation of dispatch, Please contact us.
For us to be able to assist you with regards to a missing parcel please contact us within 20 days of your parcel's dispatch.
For us to be able to assist you with regards to a damaged parcel please contact us within 7 days of your parcel's delivery date
 After these times we will unfortunately be unable to assist you.
Products may not be returned or exchanged if you change your mind so please choose carefully.
Damaged products on delivery may be returned in accordance with Urban Herbalist's damaged policy.
If you receive a faulty product, please contact us within 7 days and we will happily replace your item for you.