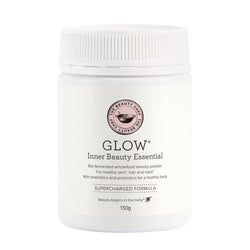 Urban Herbalist
The Beauty Chef Glow Inner Beauty Essential 150g
The Beauty Chef #1 best selling GLOW has been taken to a whole new level with a next-generation supercharged formula to help support gut health, skin health, and your general wellbeing. With 18 Certified Organic wholefoods, this berry blend will have you glowing from the inside out.
Cruelty Free
Vegan
Certified Organic
Beauty is so much more than what is on the surface of your skin, it's what is on the inside that counts and with the new, The Beauty Chef Glow Inner Beauty Essential formula, your gut health, skin health and general wellbeing will leave you feeling radiant from the inside and out.
This new formula uses 18 Certified Organic wholefoods such as bio-fermented maqui berries, queen garnet plum, pomegranate fruit peel extract and a range of other skin-loving ingredients to aid with collagen production.


How does The Beauty Chef Glow Inner Beauty Essential work?
Using a wide range of antioxidants, polyphenols and phytonutrients, when dissolved in water, this powder will feed the beneficial bacteria in your gut. It's been found that there's a link between good gut bacteria and radiant skin, as by having good digestive wellbeing, you're able to give your skin the nutrients it needs to glow.


What are the key ingredients in the Beauty Chef Glow?
Provitamin A: Essential for aiding with the cellular turnover process.


Biotin: This phytonutrient contributes to the maintenance of healthy hair, skin and nails and helps with metabolism and energy production.


Polyphenols: Potent antioxidants that aid not only with a healthy microbiome but also fighting free radical damage.


Vitamin C: This skin protective antioxidant will help boost collagen production and retain cell protection.


Zinc: Helps with maintaining hair, skin and nail strength.


Vitamin B3: Naturally occurring niacinamide helps to retain normal skin function and structure.


Prebiotics and Probiotics: the beauty chef glow powder has been supercharged using a unique bio-fermentation process. Probiotics and Prebiotics feed your gut the beneficial bacteria it needs for proper digestion, which can then improve your skin.
How to Take
Mix 1 tsp (5g) in 200mL of water, a smoothie or your favorite drink and consume immediately. For optimal results, GLOW should be
consumed daily in chilled or room temperature beverages and can be taken with any other Beauty Chef product.
If this product is sealed, please ensure the seal is intact prior to using the product.
We offer FREE COURIERPOST DELIVERY on all orders $100 and over within New Zealand. For all other orders below this amount, there is a delivery fee of $5.00.
Please allow 2-3 working days for your order to arrive*
*If your items are out of stock or out of our shipping zones, we will contact you promptly with an expected date of shipping.
Should you have any special delivery instructions, please leave the details in the 'Delivery Instructions' field provided at the check out. 
Our packages are non-signature parcels unless requested. If you are not at home, the courier driver typically leaves the parcel at the door or close by. Alternatively, they will leave a card to call. If we are delivering to a business, please provide the business name in the delivery address.
Damaged or Missing parcels
If your products did not reach you in perfect condition, please notify us as soon as possible and we will endeavour to sort out the issue. Please do not return the damaged goods without notifying us first as we will need to make arrangements for the return from our end. Please keep any packaging and damaged items as is, as these are required for the claim process.
In the unlikely event that your parcel doesn't reach you within the expected delivery time-frame (2-3 working days) of our team having emailed you confirmation of dispatch, Please contact us.
For us to be able to assist you with regards to a missing parcel please contact us within 20 days of your parcel's dispatch.
For us to be able to assist you with regards to a damaged parcel please contact us within 7 days of your parcel's delivery date
 After these times we will unfortunately be unable to assist you.
Products may not be returned or exchanged if you change your mind so please choose carefully.
Damaged products on delivery may be returned in accordance with Urban Herbalist's damaged policy.
If you receive a faulty product, please contact us within 7 days and we will happily replace your item for you.